Cities' resilience during COVID19 and the real estate sector's role
Cities' resilience during COVID19 and the real estate sector's role
Savills Resilient Cities Index 2022 παραμένει σχετικά αμετάβλητη.
For a while, the city looked in trouble. The Covid-19 pandemic hit large and densely populated metropolitan areas more dramatically than it did quieter, sparser locations.
News footage from around the world showed empty city streets and a remarkable lack of the usual hustle and bustle. Any number of commentators on Savills Resilient Cities Index 2022, declared that the city was over: work from home was the future and we need to address what to do with all those empty offices.
Two years after Covid-19 was declared a pandemic, real estate markets were beginning to return to normal as restrictions on mobility and international travel were eased across many regions. The war in Ukraine brings new headwinds, and may have a negative effect on some investor sentiment and delay recovery – particularly across markets in close proximity to the crisis. The full implications are as yet unknown, but the war's impact on commodity prices has further pushed up inflation, squeezing living costs. In times of heightened uncertainty, the resilience of cities will again be tested.
The Savills World Research team has ranked 500 cities on the depth of their real estate market, economic strength, knowledge economy and technology and environmental resilience. The top cities in the index will be best placed to adapt to future economic and environmental challenges.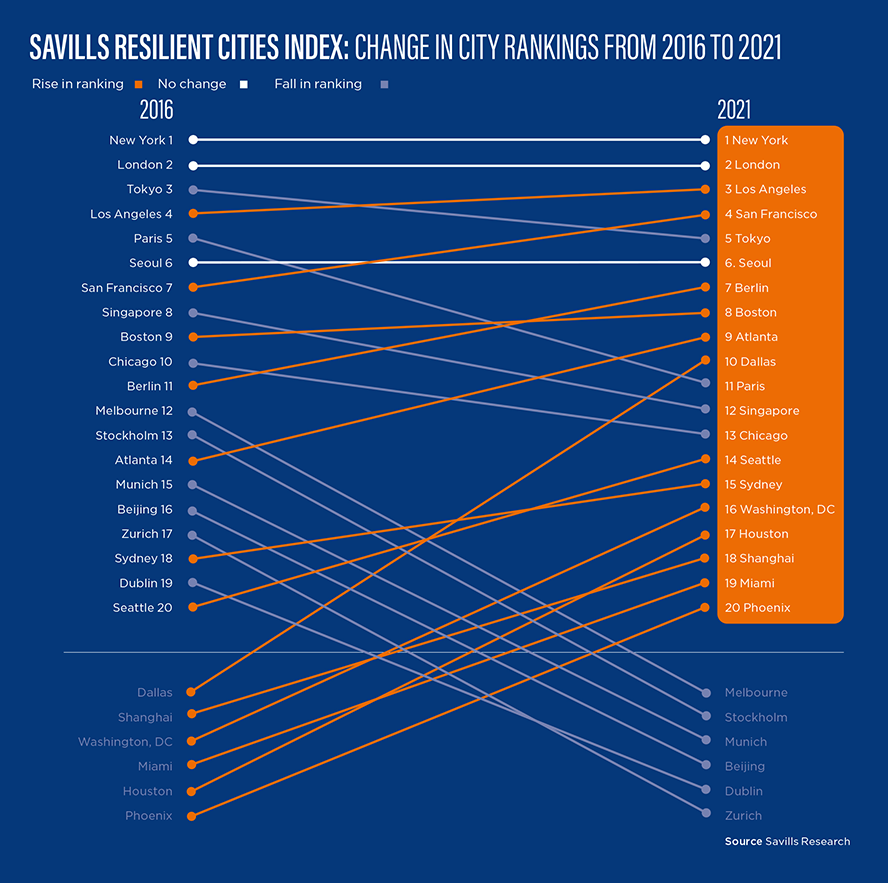 Real estate investments
According to Savills, real estate investment is a key fundamental for a city's resilience. Cities with a liquid and readily invested real estate market, with security of title are usually better off in this context.
In real estate terms, a resilient city will have a large, liquid market, a good mix of domestic and international investors and strong property rights. Collectively, the world's cities scored very highly, with 2021 investment volumes of more than $1.3 trillion – 59% up on the previous year and 22% ahead of 2019, the last record year.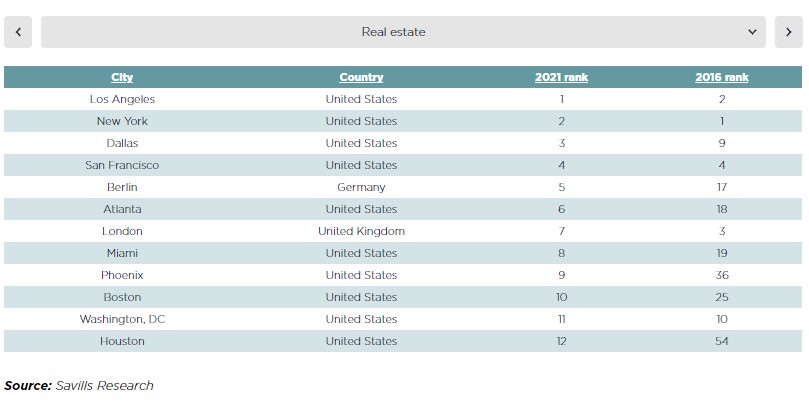 Where people go, real estate investors will follow, not least because of the popularity of the residential sector, which overtook offices in 2021 to become the largest real estate sector worldwide. Looking forward, this preference will drive more investment in cities that are attracting workers. The difficulty of buying assets in US gateway cities is also pushing investors to look elsewhere.
Another prime motivator for real estate investors is ESG considerations. The desire to buy and build more sustainable real estate will determine not just the type of assets that are most attractive, but the cities where buyers prefer to place their capital.